About Us
We have Extensive Experience in Research, Service & Teaching Bovine Embryo Transfer!
We offer a variety of courses in: bovine embryo transfer training, bovine artificial insemination training, bovine embryo splitting training and embryo transfer lab techniques training.
Our main course is the 4.5 day comprehensive hands-on Bovine Embryo Transfer Course which teaches the most economical methods to perform embryo transfer thereby maximizing profit & is designed for dairymen or ranchers wanting to perform embryo transfer on their herds, as well as veterinarians wanting to learn embryo transfer to perform in their practice.
We service many international customers and have setup embryo transfer programs for several foreign agricultural departments and many private enterprises. Classes can also be taught offsite for groups.
Our school was founded by Dr. R. Peter Elsden a world-renowned pioneer in the embryo transfer industry. He was a veterinarian with a Master's Degree in reproductive physiology. He was a past President of The International Embryo Transfer Society, and a past Director of The American Embryo Transfer Association. He was also nominated a member of the Spanish Academy of Sciences for Veterinarians. He received The Oliver Pennock Award from Colorado State University for meritorious teaching and research, and in 2016 Dr. Elsden was named one of the 15 Most Influential Veterinarians!
Dr. Elsden co-authored the book "Embryo Transfer in Dairy Cattle". He also published over fifty scientific articles in pier reviewed journals and has numerous publications in popular cattle magazines. Dr. Elsden consulted for the United States Department of Agriculture, The Food and Agriculture Organization of The United Nations, Winthrop International (Rockefeller), several foreign governments, and many embryo transfer groups.
Dr. Elsden was involved in teaching, research and service in the embryo transfer industry for over 30 years.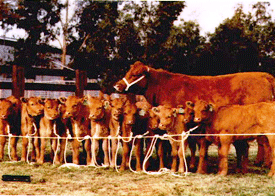 Our facilities are located in Senatobia Mississippi, just 35 minutes drive from Memphis International Airport. We offer free transportation service to and from the Memphis International Airport for students attending our school.
View Larger Map
Email Us
Phone: 662-562-0304
Like us on Facebook: