Comprehensive Bovine Embryo Transfer Training Course
Course Info
Our 4.5 day comprehensive hands-on Bovine Embryo Transfer Course teaches the most economical methods to perform embryo transfer thereby maximizing profit & is designed for dairymen or ranchers wanting to perform embryo transfer on their herds, as well as veterinarians wanting to learn embryo transfer to perform in their practice. The course begins on a Tuesday and ends at noon on Saturday.
In our Comprehensive Bovine Embryo Transfer Course you will learn how to select and prepare donors & recipients; and how to collect, recognize, manipulate, classify, freeze, thaw & transfer embryos.
We show you where to purchase state-of-the-art-instruments (microscope & freezer) plus laboratory equipment (the same as we use) at lower prices than found elsewhere, which will result in considerable savings initially & in the future, which will more than cover the cost of tuition!
Superovulated cows are provided daily with the opportunity of unlimited flushing & palpation. Unlimited frozen-thawed eggs and embryos are available for additional practice whenever needed. We supply all of the equipment needed for the school and we only use young, fertile cycling cows which are observed for heat every day to ensure optimal results.
We limit the number of students per school to eight. This ensures a high level of teacher/student interaction. Certificates of competency are given after taking the 4.5 day school & completing the theory & practical techniques of embryo transfer. It takes the average student 4.5 consecutive days to absorb the instructions & experience the different manipulations in cows & at the microscope when help is needed. The classroom is Wi-Fi enabled, so feel free to bring your laptops and tablets.
Veterinarians can apply to their state veterinary associations for continuing education credit hours for attending our school (based on 12 hours of lecture and 38 hours laboratory techniques). Many veterinarians have encouraged their clients to attend this school.
For those students who need training in AI we offer a combined AI & ET training course. The AI training portion is a 1 day school held the day before the embryo transfer school. Then the student continues practicing AI for 4.5 days while learning the embryo transfer methods.
Instructor
Key Benefits of Embryo Transfer
To produce more calves from a valuable cow. Donors average between 4 to 6 usable embryos per flush (range 0 to 52 in our experience). The average donor can be superovulated successfully about 6 times per year although there is considerable variation between donors. Pregnancy rates should average 65% in beef, and 75% in dairy cattle.
Changing from grade cattle to pure-bred animals is less expensive using embryo transfer than buying pure-bred cattle.
Circumvention of some types of infertility can be accomplished using embryo transfer techniques.
More calves are produced per dose of semen. Two doses of semen are sufficient per superovulation, which will produce an average of 3.5 calves from fertile donors. For instance, 0.5 doses of semen compared to 2 doses of semen per calf under normal breeding practices.
Prevent disease transmission
Research tool
Embryos are a safe and efficient method of exporting and importing genetic material.
Testing for undesirable recessive traits in the dam.
To obtain bull calves from top cows for young sire programs which identify the best bulls.
Course Syllabus
The Comprehensive Embryo Transfer Course is a 4.5 day school that begins on a Tuesday and ends at noon on Saturday.
Each day consists of: 2 hours of lectures in the morning, followed by practical work (consisting of flushing superovulated donors and learning laboratory techniques for managing embryos) for the remainder of the day; so approximately 80% of the students time is spent performing practical work. There is no set finishing time on any day, it is up to the student to finish when they are satisfied the technique is mastered. On the last day, placement of the embryo transfer gun for transferring embryos is practiced with a new set of cows. Students are again asked if they want anything repeated.
Subjects taught are:
Selection of donors & recipients-genetic & physical aspects
Reproductive physiology
Synchronisation of estrus using prostaglandins, progesterones & GnRH
Superovulation-use of follicle stimulating hormones, mechanisms of follicular maturation, ablation & ovulation
Heat detection methods
Breeding strategies and techniques
Methods of embryo & egg recovery
Techniques of transferring embryos-palpation of cervix, uterus, ovaries, follicles & corpora lutea
Preparation of media
Description, preparation & care of stereozoom microscopes
Location, manipulation & classifiaction of embryos
Sanitation of embryos for domestic use & for export
Techniques for cooling embryos for deep frozen storage using ethylene glycol & glycerol
Preparation of frozen-thawed embryos for transfer
Record keeping
Course Hours
The course begins on a Tuesday and ends at noon on Saturday. Classes start at 8:00 A.M. each day and finish betwen 5:00-6:00 P.M. (depending on the number of embryos collected and student application). Class finishes at noon on Saturday.
Prerequisites
Competence in AI (artificial insemination) is required.
School Location
Our facilities are located in Senatobia Mississippi, just 35 minutes drive from Memphis International Airport. Students flying in to attend our school will need to fly into Memphis International Airport.


View Larger Map
Transportation & Lodging Info
We offer free transportation service to/from the Memphis International Airport for students attending our school. Most students choose to stay in Hernando, MS which is located approximately 20 minutes from the school facilities. Transportation services are available to/from Hernando hotels and the International Embryo Transfer School for each day of the course. If you are driving your own vehicle you may also wish to stay at one of the casinos in Tunica, MS. The closest casinos are Gold Strike and Horseshoe Casino, they are located approximately 35 minutes from the school facilities.
Hotels in Hernando, MS (20 min away)
Hampton Inn Phone:662-367-6072
Days Inn Phone:662-429-0000
Super 8 Phone:662-429-5334
Magnolia Grove Bed & Breakfast Phone:662-429-2626
Hotels in Tunica, MS (35 min away)
Gold Strike Casino Phone:888-245-7829
Horseshoe Casino Phone:800-303-7463
Course Schedule
Our Comprehensive Bovine Embryo Transfer Training Course is usually held the first Tuesday of each month. The Course begins on a Tuesday and ends at noon on Saturday. Please select your desired course date on the enrollment form by clicking on the "Enroll" button at the bottom of this page.
The following is a current list of scheduled course dates:
| | |
| --- | --- |
| 6/4/2019 - 6/8/2019 | 7/9/2019 - 7/13/2019 FULL |
| 8/6/2019 - 8/10/2019 | 9/3/2019 - 9/7/2019 |
| 10/1/2019 - 10/5/2019 | |
Price
Tuition for the Comprehensive Embryo Transfer Course is: $3,300.00 US Dollars
We Accept the Following forms of Payment: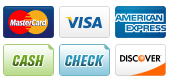 To register for this course click the "Enroll" button, you will select the date you wish to attend on the registration form. You may add additional courses and products to your cart prior to checkout.

Testimonials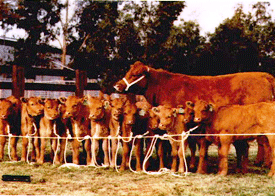 "I just wanted to say I think the tuition for your class was the best money I've ever spent for continuing education. I really appreciated the way things were presented. You left no grey areas about which methods and techniques were best."
Bruce l. Chambers DVM
"I now have calves on the ground from my ET work thanks to you. My conception rate on frozen embryos is in the 60s right now. Thank you for the schooling."
Doug Giles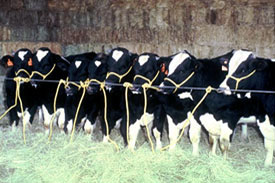 "I just wanted to tell you thank you for offering such a great class, this has been a wonderful opportunity for me. Yesterday I saw my first embryo calf born and another is on the way."
Cheri Kraus
"Thank you for the excellent training that you provided in the art of embryo transfer. Your class was a great success for many reasons – excellent techniques, down to earth instruction, ample laboratory work, small class size, the willingness to provide first class advice and your knowledge of the industry to name a few. Your experience from the earliest days of embryo transfer were fascinating and very helpful."
Kevin Albrecht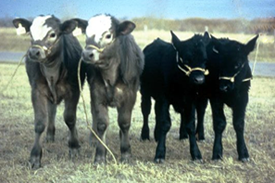 "Implementing embryo transfer into our cattle operation has been an enormous success. We hold Dr. Peter Elsden and The International Embryo Transfer School with our highest regard as they are largely responsible for our accomplishments."
Bob & Robin Stevenson, Stevenson Angus Ranch
"My success rate has equaled that of embryo technicians who have been flushing and implanting embryos for many years."
Ed Willams