Welcome to the International Embryo Transfer School
We Have Extensive Experience in Bovine Embryo Transfer Research, Service & Training!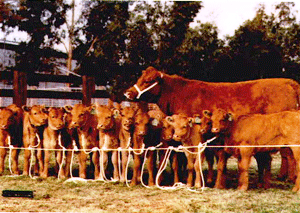 We offer a variety of courses in: bovine embryo transfer training, bovine artificial insemination training, bovine embryo splitting training and embryo transfer lab techniques training.
We service many international customers and have setup embryo transfer programs for several foreign agricultural departments and many private enterprises. Classes can also be taught offsite for groups.
Our most popular course is the 4.5 day hands-on Comprehensive Embryo Transfer Course which teaches the most economical methods to perform embryo transfer in cattle, thereby maximizing profit; and is designed for dairymen or ranchers wanting to perform embryo transfer on their herds, as well as veterinarians wanting to learn embryo transfer to perform in their practice.
Through our many years of teaching experience, we have ascertained that it takes the average student 4.5 days (veterinarians 4 days) to absorb all of the material, to experience the differences in the reproductive tract of cows, and experience the different situations when using the microscope; both are aspects which cannot be learned from books or videos.
Each day of the Comprehensive Embryo Transfer Course consists of 2 hours of lectures in the morning, followed by practical work (consisting of flushing superovulated donors and learning laboratory techniques for managing embryos) for the remainder of the day; so approximately 80% of the students time is spent performing practical work. There is no set finishing time on any day, it is up to the student to finish when they are satisfied the technique is mastered. On the last day, placement of the embryo transfer gun for transferring embryos is practiced with a new set of cows. Students are again asked if they want anything repeated.
Students are encouraged to let us know how they are progressing after they get home, and to contact us with questions when they occur. We like to think we have made friends with our students, and certainly like to hear from them on how they are doing.
We Accept the Following forms of Payment: