Thawing & Implanting Bovine Embryos Training Course
Course Info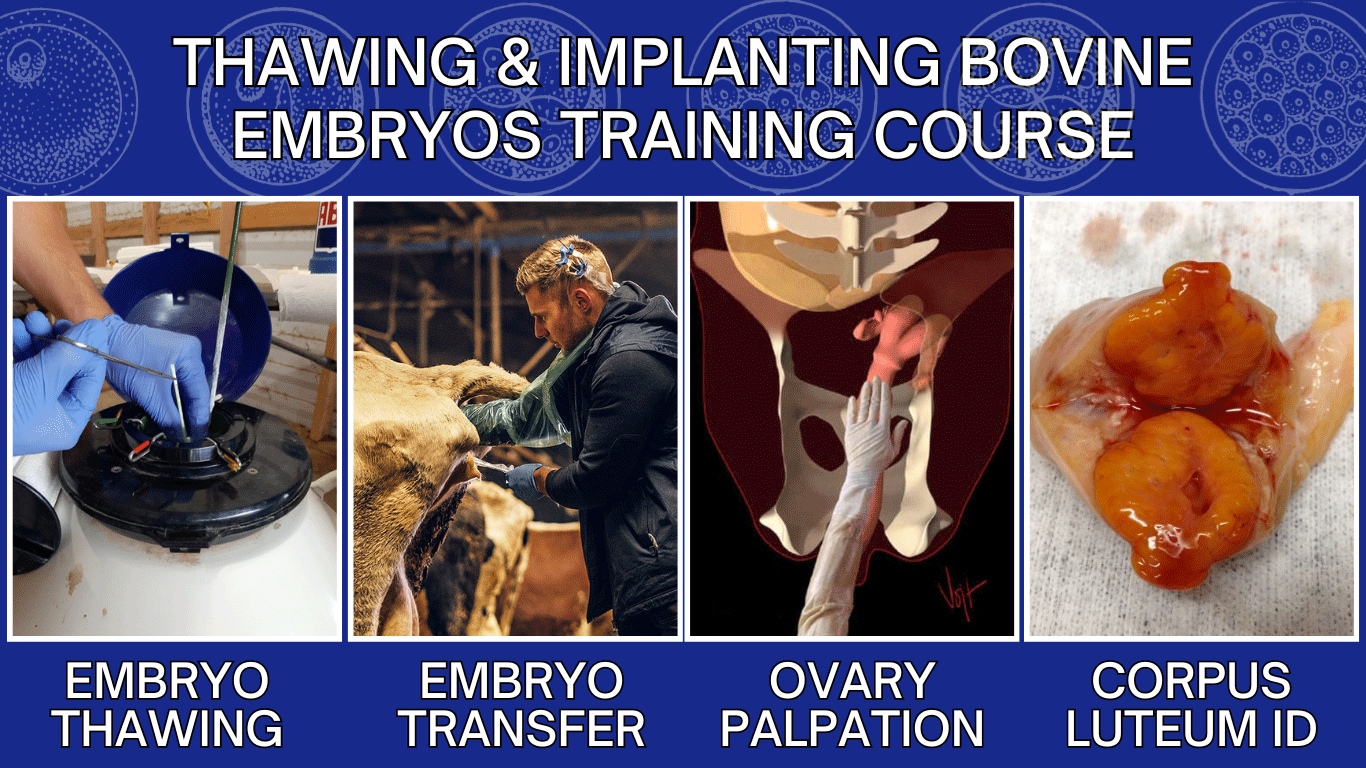 Our 1.5-day (12 hour) Thawing & Implanting Bovine Embryos Course delivers comprehensive, hands-on instruction in "best practices" for transferring frozen/thawed IVF & MOET produced cattle embryos. The course is designed for dairy or beef cattle breeders, and large animal or mixed-practice veterinarians who intend to receive and transfer frozen embryos produced through IVF or MOET. Students are also taught how to palpate ovaries to detect corpora lutea (CLs). We also go over synchronization protocols for your Recipients.
What You Will Learn
How to manipulate the uterine horns and ovaries
Best location to deposit the embryo, and how to accomplish that objective
How to thaw embryos frozen previously via controlled rate methodology
Procedures for thawing, loading and "safe-keeping" embryos prior to transfer
Which recipient heat dates match best for IVF, and for MOET embryos
Which recipient heat dates match best based on embryo stage of development
Understanding the information recorded on the "Embryo Freezing" form
Proper completion of embryo transfer paperwork and documentation using International Embryo Technology Society guidelines
Class Size
Limited to 8 students maximum, 5 minimum
This ensures a high level of teacher/student interaction. Certificates are given to students who complete the course and demonstrate an understanding of the theory & practical techniques of embryo transfer.
Instructor
Key Benefits
Matching number of embryos collected to number of recipients prepared is unlikely, so without frozen embryos either prepared recipients or embryos are wasted. However, stored frozen embryos will solve these problems.
Frozen embryos open up an additional market for the astute cattle breeder
Course Syllabus
The Thawing & Implanting Bovine Embryos Training Course is a 1.5 day school.
Subjects taught are:
How to palpate uterus, ovaries and CLs
How to obtain information from embryo freezing certificates
How to thaw and transfer frozen embryos
Course Hours
Class is 8-5 the first day, and 8-12 on the second day.
Prerequisites
Students must already be competent in AI techniques prior to attending this course.
School Location
Our facilities are located in Senatobia Mississippi, just 35 minutes drive from Memphis International Airport. Students flying in to attend our school will need to fly into Memphis International Airport.


View Larger Map
Transportation & Lodging Info
Transportation & Lodging are not included in the cost of the course. If you are flying you will need to fly into Memphis International Airport and rent a vehicle. The training facility is located 35 minutes from the airport. Most students choose to stay in Senatobia or Hernando. However, you may also wish to stay at one of the casinos in Tunica, MS. The closest casinos are the Gold Strike and Horseshoe Casinos, they are located approximately 35 minutes from the school facilities.
Hotels in Senatobia, MS (10 min from training facility)
Spahn House – (around $125 per night) Phone: 662-288-6851
Hotels in Hernando, MS (20 min from training facility)
Hampton Inn – (around $115 per night) Phone:662-367-6072
Super 8 – (around $85 per night) Phone:662-429-5334
Magnolia Grove Bed & Breakfast – (around $125 per night) Phone:662-429-2626
Hotels in Tunica, MS (35 min from training facility)
Gold Strike Casino – (starting at $55 per night during the week) Phone:888-245-7829
Horseshoe Casino – (starting at $55 per night during the week) Phone:800-303-7463
Course Schedule
The following is a current list of scheduled course dates:
Price
Tuition for the Thawing & Implanting Bovine Embryos Training Course is: $1,650.00 US Dollars
We Accept the Following forms of Payment: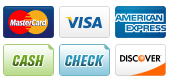 To register for this course click the Enroll button. Note: This course requires an authorization code to enroll, your authorization code is: embryo
Testimonials
"I just wanted to tell you thank you for offering such a great class, this has been a wonderful opportunity for me. Yesterday I saw my first embryo calf born and another is on the way."
Cheri Kraus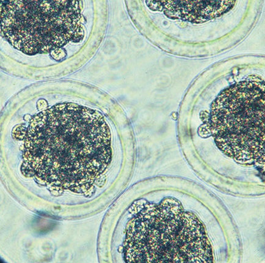 "My time was well spent at The International Embryo Technology School, it was one of the best things I have ever done to date. Thus taking the course has given me a great advantage in the purebred cattle industry and an awesome outlook in the business world."
Rodney Hollman
"Outstanding class! Dale is a wealth of knowledge and made the class fun and exciting. Dale is easy to talk to which makes asking questions easy. There were plenty of cattle to practice on and they were all laid back and easy going. Jason and Dale make a great team and create an atmosphere that makes learning easy. "
Russell Harwell
Polk City, FL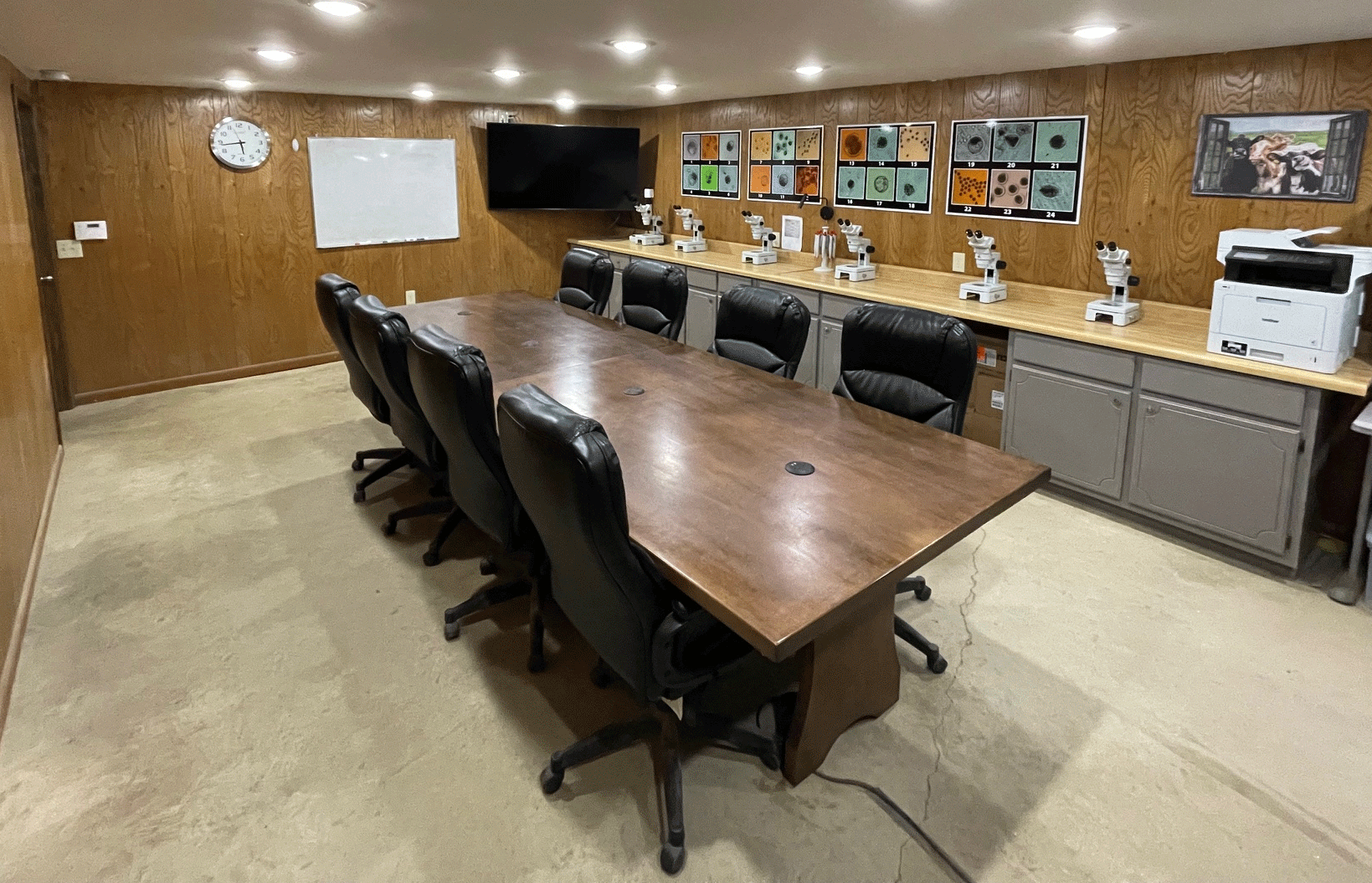 ""Thank you for a great school. The class was very well organized and without out a doubt exceeded all expectations. Thanks again for the hard work it takes to prepare and conduct an outstanding program"" "
Brian Considine
Middletown, MD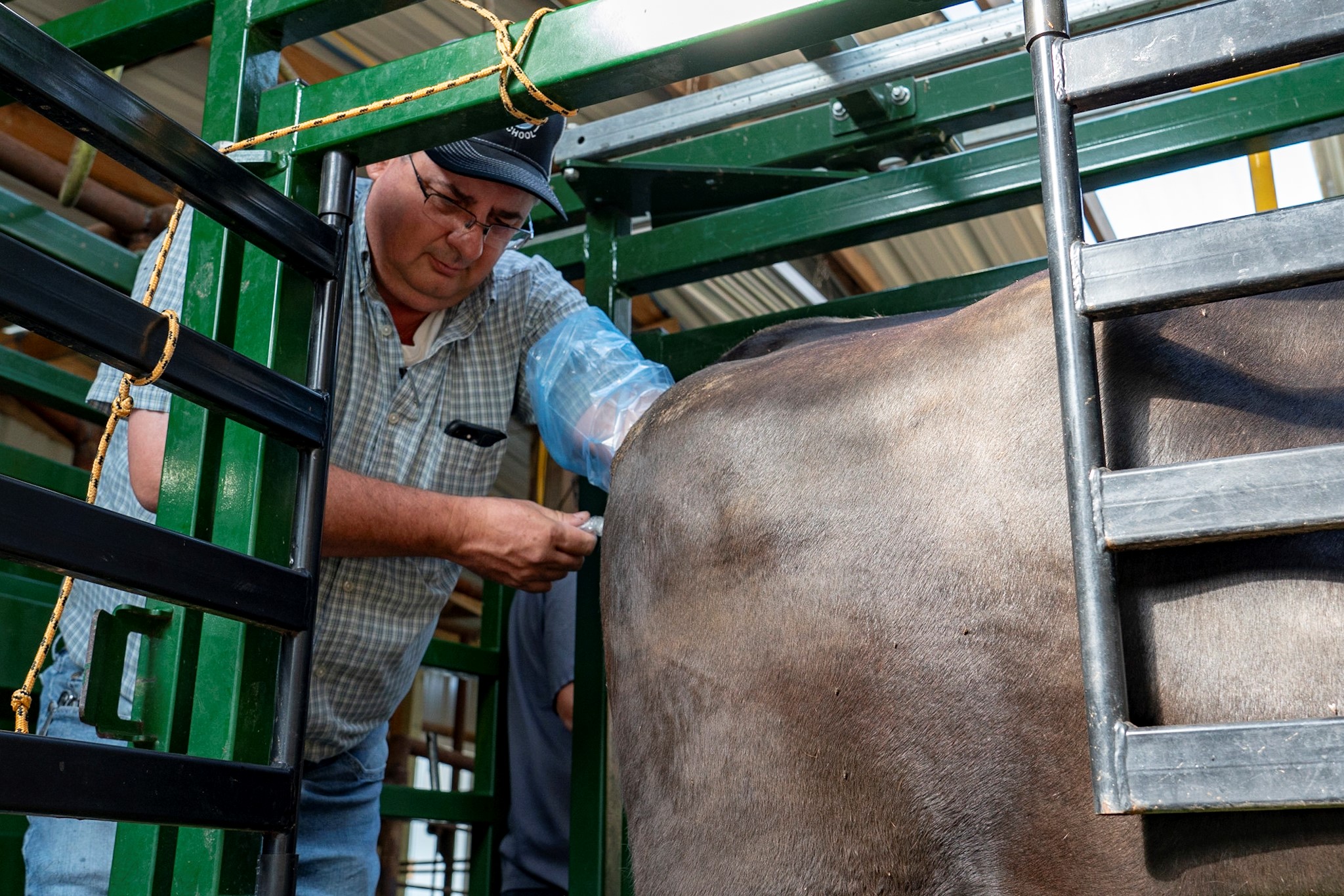 "It was a very informative course, Mr. Dale Whitaker is really good in what he does. Looking forward to transferring our first embryo's." "
Jason Meadon
McEwen, TN